Thursday, 27th November 2008
Once again we hit the streets of Perth to repaint it with some light. A nice blank wall beside a empty lot in a semi industrial area proved a perfect spot. We started as usual with some drawing with the graphics tablet, VJzoo turned up and we where now projecting with three light cannons and totally resurfacing the building!
I experimented on the participants with some new audio visual mixing and the guys from Re-Face came past for a chat and to do some filming.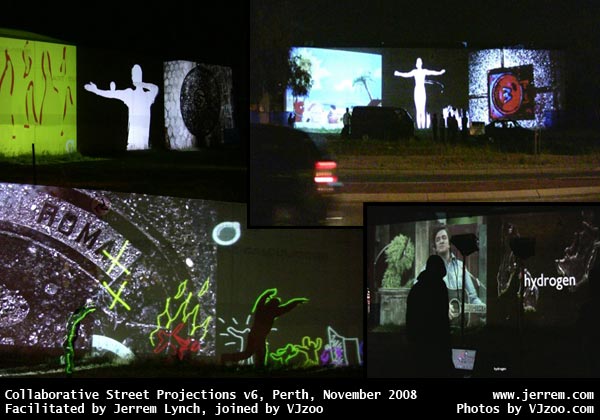 video by VJzoo
Big thanks to Steve and Mary for letting me suck some power from their cars (my honda has gone to automotive heaven).
Author: Jerrem Lynch
Tags: architecture, art, artists, buildings, construction, design, Digital Graffiti, drawing, electronic, electronic street art, future, graf, graphics, GRL, hack, laptop, light, night, outdoors, Perth, projector, Projector bombing, resurface, street art, structures, tablet, urban planning, video, VJ, VJzoo, Western Australia