Monday 1st December 2008
Moller and I walked down the road for live drawing hosted by DrSketchy's @ the brisbane hotel. I couldn't find any of my "real" drawing gear so i dragged along my tablet pc instead. I don't actual consider myself good at life drawing.. and as such its more about trying to be a little less shit than last time.

This is the first time Ive taken my tablet pc to a life drawing session. Its fast paced, so using a computer at times caught me off guard (turning the page is easier than creating a new file)… but the ablity to undo rocked as well having the fastest colour pallet, and biggest selection of brushes in the room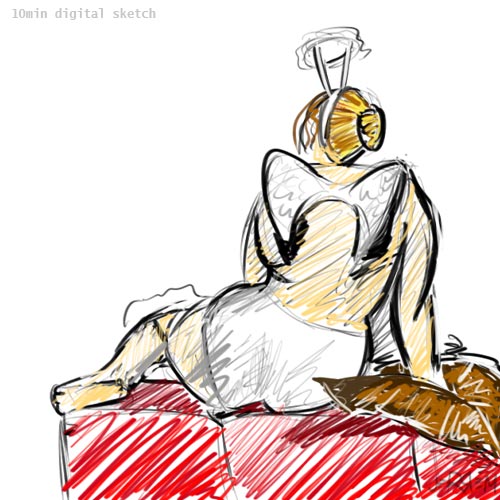 I suppose the real benefit of digital drawing is its easier to share in our web 2.0 world.
Author: Jerrem Lynch
Tags: alias sketch pad, art, artists, beer, brisbane hotel, computer, design, digital, Dr Sketchys, drawing, graphics tablet, illustration, laptop, life drawing, paper, pencil, Perth, sketch, sketching, Western Australia