Saturday March 31, 2012
An interactive street game created for WWF's Earth Hour celebrations.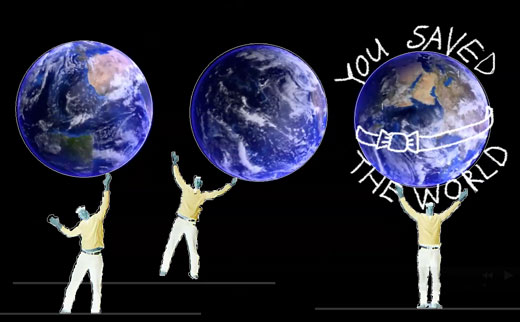 Earth Hour is an annual event organised by the World Wildlife Fund (WWF)  to raise awareness about climate change. I was asked to create some outdoor projections for the event, so I created this interactive artwork which allows people to participate with their bodies. A camera outlines their silhouette on the building and Earth drops from above which they must catch. If you can stop the Earth from falling for ten seconds, you are congratulated. If dropped, you lose.
I created this artwork by typing code in c++ using the brilliant openframeworks toolkit. None of this would be possible without the openframeworks and its community.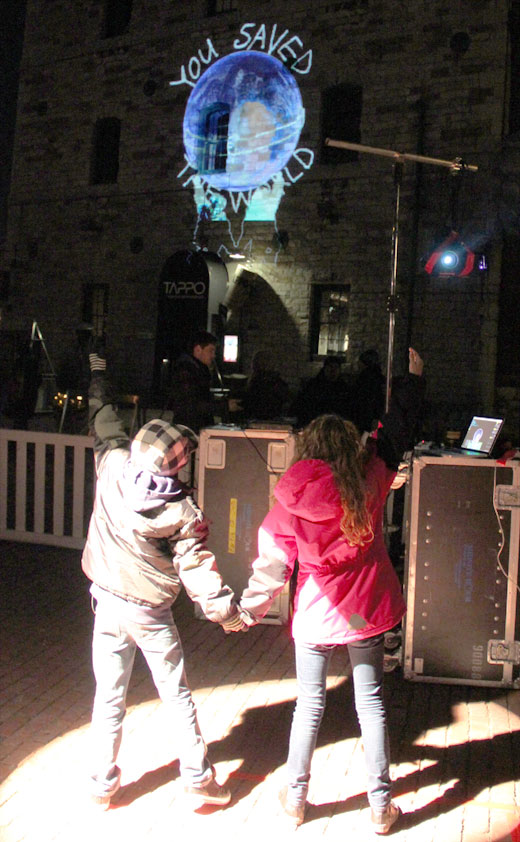 Author: Jerrem Lynch
Tags: architecture, art installation, body tracking, buildings, catch, charity, contemporary, digital art, Distillery District, earth, earth day, earth hour, ecology, electronic art, electronic street art, environment, event, event game, graphics, hold, human, interactive, interactive public art, interactive street game, Jerrem, Jerrem Lynch, kinect, motion tracking, openframeworks, outdoor game, outline, person, planet, projection art, projection bombing, projector, Projector bombing, Projektionen, public, public art, save the planet, silhouette, street art, structures, Toronto, urban planning, video art, world in your hands, world wide fund for nature, world wildlife fund, WWF