From 3rd to the 7th of March I attended Graffiti Research Labs Masterclass in Adelaide. It was a crazy week of developing, collaborations and laser tagging.
Graffiti Research Lab are a group from New York which focus on developing open source technology for Graffiti Writers, Street artists and Activists. In other words they invent or develop tool and techniques that can be used as Graffiti and Street art. There work is open source and in the public domain so that anyone can make and spread there message.
James and Evan came to Adelaide to help spread the message of GRL and open source technology. With 15 participants from all over Australia, it was a busy and inspiring week. Chosen for there unique skills everyone in the group had something to contribute as we learnt from some of Americas finest we also managed to develop some good old Aussie ingenuity.
Here are some of the things the group got upto…
GRL's Throwies…. (a workshop with the greater community, at least 100 people turned up young and old to make glowing graffiti which quickly dispersed into the streets)
GRL's Laser Tag… (many days of tagging the buildings in Adelaide CBD… some good times had writing our names 8 stories high and meeting and watching Adelaide's graffiti writers at work)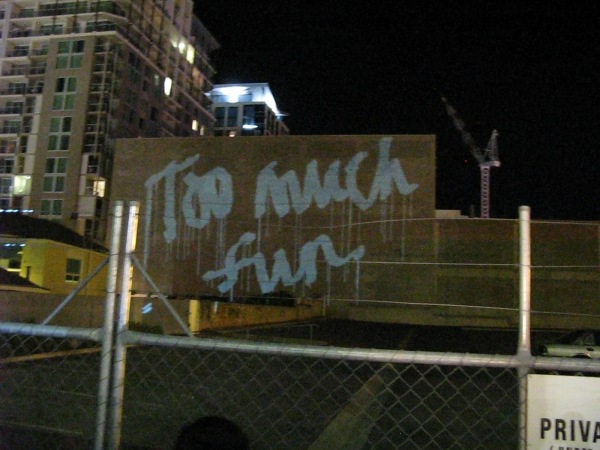 first night of laser tagging and projections

BUSTED by South Australian police
CHALKIES – "the anne wills game"
After making chalk bombs out of chalk crushed up in socks (did I mention "IT's FREE" ?)it seems only natural to throw these at a wall (low tech throwie?) and even better to throw them at a projection of a local celebrity (Anne Wills- by Jo) moving across the wall like a duck in an old Atari game. Much fun was had by all as we manically threw chalk at this poor women's head, when you got a hit her head would turn into a spinning logie. I hope this is the start of a new urge for interactive Street games, smart mob style. Get out the house and bomb some walls.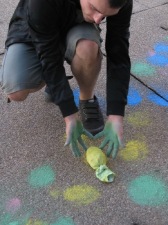 As well as LED signs, Glowing paste-ups, glowing mangetics, flashing streets, chalk and tape. We also explored Electro-luminescent, glow in the dark and heat sensitive materials. Building Adelaide's own projection trike (a tricycle outfitted with mobile projection gear for laser tag and guerrilla street projections) LUCKY ADELAIDE!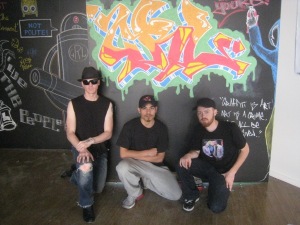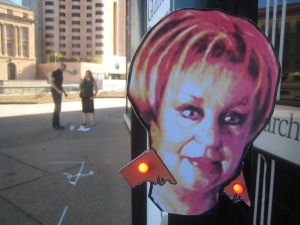 most of these images hosted &/or taken by James and Evan here
I hope that we can start GRL Australia! Anyone interested? Email me.

official stuff…
The Australian Network for Art and Technology (ANAT) provided places in the
masterclass for five national participants as part of their annual emerging
technology labs program. The labs are designed to create environments for
inspiration, enrichment, engagement, playful exploration and collaboration
across disciplines and hybrid practices.

Presented by Carclew Youth Arts in association with the Adelaide Bank
Festival of Arts and the Australian Network for Art and Technology. The
Australian Government through the Australia Council, its arts funding and
advisory body has assisted this project.
Author: Jerrem Lynch
Tags: Adelaide, ANAT, art, artists, carclew, chalk, digital, electronic, games, Graffiti, graffiti research, graffiti research lab australia, GRL, GRL australia, interactive, lab, laser, laser tag, laser tagging, LED, projections, SA, south australia, street, throwies