Sunday 30th November, 2008
It's always great to VJ at music Festivals and Stereosonic at the Claremont Show Grounds in Perth was no exception. Well organised and with a abundant supply of music lovers to soak up the vibes.

above: Short snippets of live visuals recorded on the day. The quality is not great but you really had to be there on the day… besides theres always next time.
Punters would have seen me mix visuals in the hardware tent to the sounds of Infected Mushroom, DJs Rousa & Simon Barwood, DJ Hell, DJ Zelimir, The Crookers, Vitalic, DJ Brad Every, Giuseppe Ottaviani, DJ Dr Willis, DJs Pietel vs Freestyle. The event was presented by sunsetevents, onelove and hardware who did a great job in pulling everyone together to make a great event.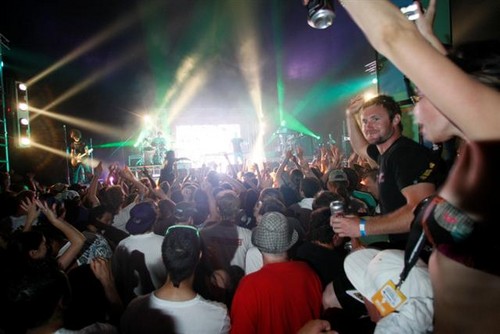 Infected mushroom performing live, photo by the Cobrasnake from ITM
Author: Jerrem Lynch
Tags: 2008, Bookashade, computer art, cut-up, dance, DJ Brad Every, DJ Dr Willis, DJ Hell, DJ Zelimir, DJs Pietel vs Freestyle, DJs Rousa & Simon Barwood, electronic, festival, Giuseppe Ottaviani, hardware tent, Infected Mushroom, LED screen, live art, mashup, music, Perth, show grounds, Stereosonic, stereosonics, The Crookers, video art, video mixing, visuals, Vitalic, VJ, VJ Lynch, Vjing, Western Australia