I recently teamed up with the guys running Reface to transform Perth for the Perth International Arts Festival. Over a series of nights Perth was subject to the brightest Projector Bombing to date. With eight Projectors bombarding numerous walls at once. Projected were a huge library of physical street art photos as well as interactive street art (tablet and infrared painting as well as GRL's laser tag).
The Reface Project is the brain child of Perth Street arts group Ololo and production company WBMC. The Project website has brought together street art images from all over to be appreciated online and now also represented back in the street as Projected art.
Interactive Street art systems where operated by Steve Berrick and Myself. Many people had fun painting and drawing on the side of the very posh Duxton hotel, and Steve's new virtual spray can (IR wiimote style) was a huge success.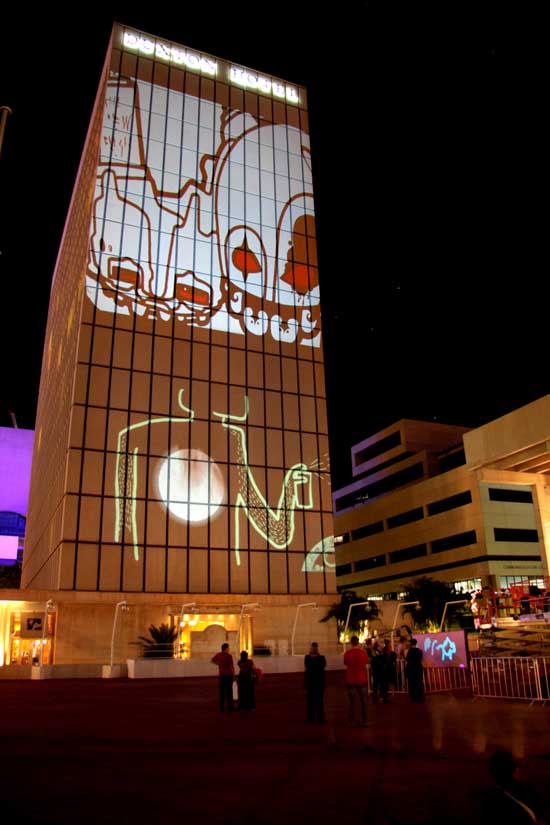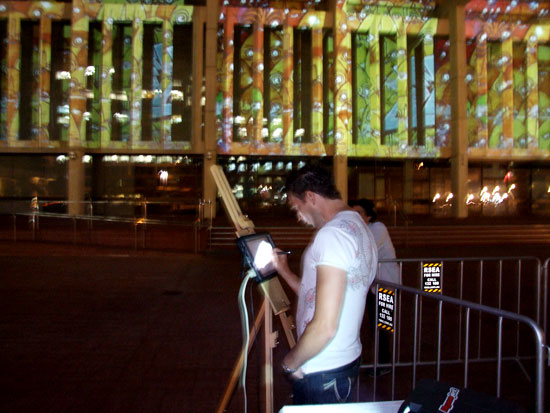 Author: Jerrem Lynch
Tags: architecture, art, artists, Australia, buildings, computer, construction, design, digital art, drawing, electronic, electronic art, electronic street art, event, future, Graffiti, Graffiti Research Lab, graphics, graphics tablet, GRL australia, hack, installation, interactive, Jerrem, laser, laser tag, light, Ololo, outdoors, pavement, Perth, Perth international arts festival, PIAF, Projector bombing, Reface, road, street art, street projection, structures, tablet pc, urban planning, video art, visual art, Western Australia