I have been busy updating the front end of this website. For many years jerrem.com has existed as simply a blog of my work, now you will find a portfolio of some of my best work. This blog will still continue to be updated of course and can be found as a link in the top right corner.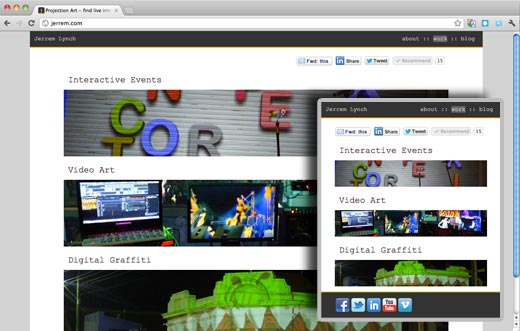 above: forward to jerrem.com home page
I created the website myself in html5 and css3 using some very clearer javascript which enables touch gesture galleries and dynamic scaling of content (hint: looks great on the iPad). I made the first version of jerrem.com back in 2001 using a pop-up windows, macromedia flash and the old "this website requires…" EEEK!. Its funny how the web changes, thankfully for the better.
below: look back on jerrem.com in 2001 with the wayback machine [ flash is not archived ]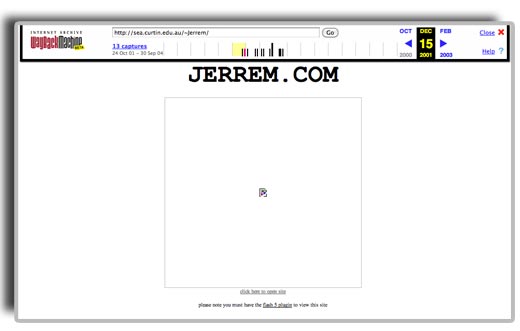 I'd really appreciate you spread the word on this update by going to the front page and sharing it via twitter, facebook, email or linkedin.
Author: Jerrem Lynch
Tags: archive, archive.org, art projector, artist, artwork, Australia, Canada, creative web developer, css, event artist, find artist, flash, free art, history, html5, interactive art, interactive events, jerem, jeremy, jerome, Jerrem, jerum, lynch, Perth, projection art, promotion, Toronto, video art, VJ, way back machine, web art, web developer, webdesign